We cannot solve our problems with the same thinking that we used when we created them." – Albert Einstein
---
If you're involved in marketing, it's no secret that change is everywhere. Technology has had a profound impact on all aspects of human behavior personally and professionally. The media we consume, how we consume it, and how we interact with brands – not to mention each other – has changed. The emergence of digital has altered everything, and marketing's role today is not the marcom of yesterday. It's a new game, with new rules, and an overwhelming number of new media, channels, and tools.
If you're currently in a marketing leadership role and you find change scary and uncomfortable, now would be a good time to consider a career change. Conversely, if your personality is one that thrives on uncertainty, exploration, and opportunity, know this: Success will be elusive, but you will probably enjoy the ride. This is the reality of marketing today.
The need for transformation
There is endless analysis and conversation today about business transformation and innovation. It is a dominant theme among analysts, technology media, and executive management. Marketing is no exception.
Many of today's B2B marketing conversations are data-rich, wrapped around annual surveys of marketers and buyers summarizing sentiment, budgets, and priorities. When done well, they capture the preferences and pain points of a profession in transition and have legitimate benchmark value. They clearly document changing trends and challenges, and the best of them deliver true insight. Yet at the same time it feels like something is missing.
The trend of "more" – content, measurement, and beyond
"More" is a recurring theme in recent years for marketing. More media choices, channels, and formats are complemented by the need for more leads and measurement. And, of course, more content. Seventy percent of marketers surveyed in 2015 by Content Marketing Institute (CMI) plan to create more content, but only 8% of B2B marketers rate their content efforts as "very effective." That's not a great return on investment. Given the continued challenge over measurement and attribution, one has to wonder about the 8%. Is it tightly measured? Or is it based on circumstantial evidence, or worse, is it assumptive?
This is one of the troubling trends that CMOs are being pressured to correct. Only 5% of marketers surveyed by CMI rate their organization's efforts to track ROI as "very successful," and a 2016 DemandWave survey says a full 35% of marketers don't even have an attribution model, let alone one that is working well.
Content Science reports a couple of equally disturbing success metrics that seem to have survived the analog age of marcom – 27% gauge success by the creation rate of content, and 71% gauge success by "meeting deadlines." Though no one will dispute the need to hit delivery dates, these metrics do not reflect the performance of content. In fact, they suggest a highly quantitative checklist approach at a time when quality and scalability matter more than ever.
This is all part of the ongoing conversations marketing is having among themselves. But as relevant as these conversations are, they are beginning to feel a bit like redundant noise. That may sound harsh, but most are rich in describing how digital customers have changed buying behaviors, the urgency of digital transformation, and the latest assessment of marketing tactics. Yet, when considered in aggregate, something is missing.
Changing the conversation inside and outside of marketing
Are the conversations around content, marketing, and advertising too narrow? Are they focused on the right things?
This recent Advertising Age article titled "The Big Agenda" is encouraging. It highlights the need to replace short-term thinking for the longer view and reflects a focus on "making marketing work better." From readers surveyed, these are the top three priority issues in 2016:
1. Making marketing more efficient (55%)
2. Improving creative excellence (54%)
3. Finding new ways to reach consumers as they block or skip ads (52%)
What is missing from the conversation today is the important new role marketing must unequivocally accept – marketing is now a direct and substantial part of the sales process. The new role is not about creating more content and publishing more often; it is about being more effective at earning audience attention and driving demand.
The 2015 B2B Marketing Trends Report from CMI highlights a key organizational challenge that must be part of the new marketing conversation. It is the wide distribution of accountability across organizations for content marketing: C-level (23%), product marketing (19%), demand gen (18%), PR (15%), social media (6%), or the omnipresent "other" (14%).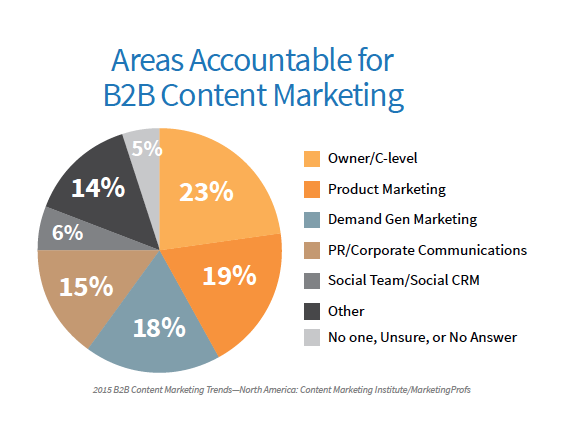 The distribution metric is significant because it documents a fractured model aligned to traditional internal structures.
Unfortunately, most attempts to adapt and improve marketing performance have been tactically iterative, constrained by legacy assumptions and habits. Technology, consumers, and communications have changed too much for incremental evolution.
Everyone needs to turn off autopilot and re-think the entire approach, right down to organizational structures and processes. Process is key to efficiency, but a process based on an old set of rules is industrialized disaster. For many, this is the status of B2B marketing today.
Until organizations accept this, marketing execution will be marginalized by the lack of a holistic vision and execution strategy. New, operationally sustainable strategies will need to break old habits, processes, and role-based silos. Digital business requires transformation at every level, perhaps most of all in marketing.
As Einstein said, "We cannot solve our problems with the same thinking that we used when we created them." Are you ready to change the conversation of marketing?
---
This article was originally written for and published by Content Science Review.